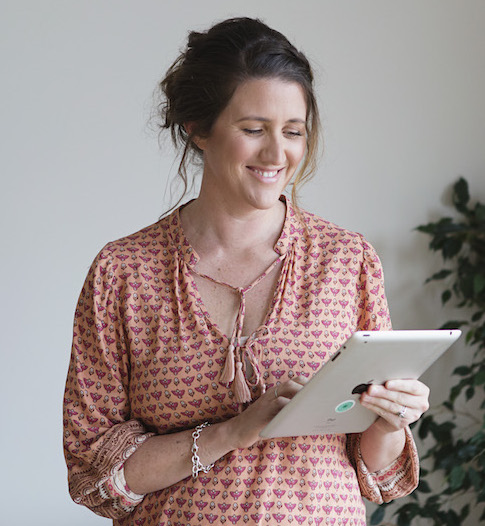 1:1 E-Commerce Business Coaching with Sarah
Sarah Quinney is an E-Commerce Business Strategist for passionate driven entrepreneurs who are looking to grow an online business which generates profit + increased sales!

My areas of expertise include:
Retail – Online and + Bricks and Motor Stores
Developing Retail Marketing Sales strategies
Developing Wholesale Marketing Sales Strategies
Product Development for Wholesale and retail
Sales funnel design and implementation for E-Commerce Business Specifically
Facebook ads and Campaigns for product and retail
Communication & Onboarding automation
Search Engine Optimisation
Social media content marketing plans
Brand Management
E-Commerce Design and website management.
Through my one on one coaching, and E-Preneur programs I help entrepreneurs leverage their strengths in a way that allows them to build a business they love that creates a profitable income. My mission is to help E-Commerce and product based build and create online business that are profitable and aligned with their passion for long term success.
Through the years of developing my own brands, e-commerce businesses I have helped many other E-Commerce Stores, bloggers, small business owners, retail stores experience massive growth both profitable and in person growth in their own businesses.
Some other areas I currently help my clients with:
The latest sales funnel + eCommerce strategies
Facebook and social media sales and advertising campaigns
List building – On boarding sequences, and automation saving you time and energy whilst selling your products.
Targeting you customer – what story are you selling them, are you selling them a solution to their problem, defining who they really are and then targeting the correct buyer.
Developing and manufacturing products, launching it into the market.
Product mix –  cleaning up product offerings.
Conversion rates -Checkout strategies and capturing abandoned checkouts.
List Building and and how to attracting your ideal customer.
Marketing + Communications strategies – are you using your newsletter a selling tool or is just informative.
Expanding sales streams via E-bay and Amazon.
Building E-Commerce platforms
These are just some of the areas I help my clients with – I work very closely at looking at your business needs and how we can create a solution that creates more profit for your efforts.
This is for you if:
You want to start an E-Commerce business and fast track your learnings and strategies so your are up and running with profit and with sales on the board.
You want to grow your business – both in product range and profitability but need that experience + support to take you there.
You have a product that you cant for some reason get into the right retailers and wholesalers hands, or its simply not selling.
You want to get more strategic and create a more purposeful approach to your business, your direction, your productivity, time and your marketing.
You're tired of one-size-fits-all strategies and you want and need personalized advice from someone who has had the direct experience and runs on the board to back the advice and strategy they can give you.
You're ready for more growth, profit and fulfillment from your business.
You need clarity, your mindset shifted to success.
You need accountability and guidance.
YOU ARE READY TO COMMIT TO INVESTING IN TAKING YOUR BUSINESS TO THE NEXT LEVEL
What does 1:1 coaching looking like?
6 months of 1:1 VIP Coaching
In-Depth Client Questionnaire+ workbooks and hands on marketing campaign strategies
Fortnightly coaching + strategy calls.
Email coaching support in between sessions.
Access to my recommended experts from VA's to copywriters to  web developers, to manufactures and buyers.​​​​​​​
The wonderful thing about investing in yourself & your business is that you not only fast track you learning but you grow and make the money back. please book in a free strategy session to see how I can help you and your business grow!

What success looks like for me!
Why did I want to create and run my own E-Commerce business? It is because I wanted freedom, I wanted to be my own boss, I wanted to not worry about money for my family,  I want to pay the school fees, I wanted to put good organic food on the table, I wanted flexibility so I can drop and pick the kids up from school, I want to travel and surf the world, I want to own my own house with an ocean view, and I also want to give back via supporting charities that protect our oceans! This is what success looks like for me, and it is why I am in business!
What does success look like for you?
Is to to expand your personal growth?  Grow your business? Travel the world? Create flexibility, and work less?  Freedom to be your own boss? Create wealth so you never have to worry where you next pay cheque comes from? Put the kids through school, put yourself through school? Own your own home, own multiple homes? Do you want to create wealth so you can give back?    Your in business because your passionate about your product and your success, but here's the pain point passion alone isn't going to pay the bills, its not going create longevity in your business, we need to step into our worth and claim our success – it comes from working smarter and owning your worth and investing in yourself.
Why am I asking you these questions?
So why am I asking you these questions? Well these are the same questions I ask myself when I step up and coach you.  How do I serve you, how can I step up into my highest frequency and energy so that I can create an exchange of significant value for  my clients so they can create the success that they desire. It is why I love coaching my clients