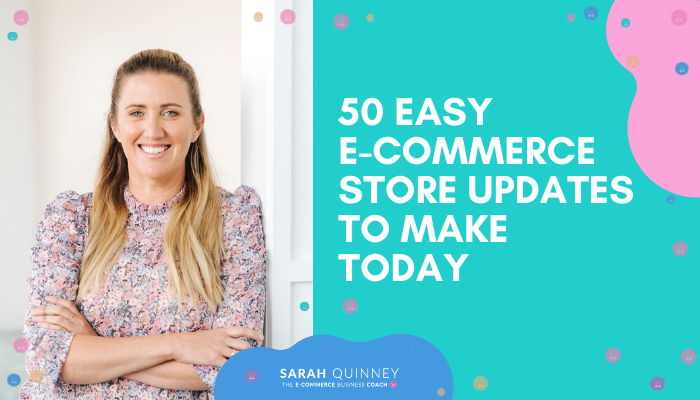 50 Easy E-Commerce Store Updates to Make Today
When you have 15 minutes of extra time, don't waste it thinking of things to do. Save this list of 50 easy e-commerce updates that you can make to improve your store. It's the little things that have the greatest impact. This list will give you quick and easy ideas to implement when you want to move the needle forward.
1. Disable old pages
It can be easy to forget about pages on your site that are no longer useful, like old giveaways or outdated services no longer offered. Make sure to disable these pages instead of deleting them, because you may need to reference them later. By hiding these pages, you can decrease your bounce rate.
2. Clean sweep your site for outdated listings
It is very important that you don't have any outdated listings in your e-commerce store. Take time to check all your listings are up to date so you can avoid frustrated customers. Disable products that you no longer sell, clean up variations (like old colorways), and make sure listings are up to date.
3. Switch up your home page
Quickly update your home page by switching things around, changing up the photos, or adding new or popular products. Creating a welcoming environment on the home page is very important to help draw customers to the site.
4. Update your announcement banner
An announcement banner is used to alert customers to important information. This can be in regard to new products, shipping information, seasonal promos, etc. Using an announcement banner can draw customers further into your site and create interest on your homepage. If it's been a while, give it an update!
5. Create an "Instagram Links" page
Many brands use a Linktree in their social media bios to provide customers with links to products and other social media accounts. By quickly creating a links page on your own site you will eliminate the need for a Linktree on your social media. Doing so has multiple benefits. It brings users directly to your website, lets them easily explore your site further, and it's perfectly branded!
6. Add new team members to your about page
An about page humanizes the website and gives customers something to connect with. It is important to make sure you're keeping this section up to date by adding new team members and removing anyone who is no longer a part of the team.
7. Incorporate videos sitewide for a more personal experience
Videos provide a much more interesting experience for users. Comb through your site to see where you can add some more interesting visual content to entice users.
8. Add new or updated Google reviews to your site
When customers are able to read reviews on an e-commerce store they are more likely to make a purchase. Keep any snippets of Google reviews used on your listings up to date and include any reviews that are specific to a product on its page.
9. Make sure policies are up to date
When customers have questions, they usually turn to your policies for answers. Make sure policies surrounding returns, refunds, and shipping are as updated as possible. This will protect your business and keep customers informed.
10. Update your footer copyright
Updating your footer copyright helps users know this page is not out of date and has been updated recently. It also can protect your content by deferring anyone from infringing your work. Read through the information to ensure that it is up to date, and then update the "Last Updated" line that most policies include at the top of the page.
11. Update site with updated SEO keywords
Continue to look for new keywords to update your e-commerce store. As new keywords rise in popularity it is important to include them on your website.
12. Update images with alt tags
Alt tags provide descriptions of images for those who are visually impaired. Additionally, they can help with the SEO value of your site. Fill them out accurately and try to incorporate keywords where possible.
13. Send an email blast
Sending out a one-time email blast can get you a quick increase in website visits. Optionally include a coupon or promotion to boost sales.
14. Create a new email campaign
Email marketing is very important to e-commerce. Put together a new email campaign and revamp your email marketing strategy using our tips here.
15. Show a behind the scenes on social media
Many consumers are interested in getting to know the people behind the business. This type of content can increase brand awareness and give you credibility in the eyes of consumers.
16. Consider installing a chat bot
A chat bot can help customers when they need help finding something on your site. It is very quick and will free up your customer support for more lengthy and in-depth tasks.
17. Add "similar" product widgets to product pages
To keep customers engaged it is important to make purchasing from your store as easy as possible. By adding a similar products section to a product page, you will increase the number of listings they will see at any given time. Also, the ability to "quick add" a suggestion to the cart cuts down on the amount of work customers must do to purchase the item.
18. Enrich your SEO with a FAQ page
A FAQ page is a great way to answer popular customer questions and helps to cut down customer support inquiries. Additionally, by optimizing this page with target keywords, you will improve the SEO of your site. Many SEO keywords take the form of questions, making the FAQ page a great place to sprinkle them in.
19. Create branded GIFs to use on social
GIFs are commonly used in various places on social media, such as Instagram stories or tweets. They are used to add interest to user's posts by adding something fun and visual. However, they can also be a great way for your business to gain some traction. Consider creating branded GIFs to raise customer awareness and to provide a fun element for customers to use when they share your products online.
20. Incorporate branded GIFs onto your website
Once you have GIFs for social media, add them to your website! They add visual interest and make the site more fun for visitors.
21. Incorporate user-generated content into your site, whether on one page or throughout product listings (with permission!)
User generated content is a great way to show potential customers how other people feel about your products. It will make your brand seem trustworthy, which can lead to sales. Make sure you receive user permission to utilize their content on your website and social media before posting.
22. Write a blog post
Content is one of the most important parts of your site because it will bring new visitors. Blogs are a great form of content because they allow you to incorporate keywords into your website. 
23. Make a list of 10 blog posts you can write this month or year
Posting blogs consistently is very important to the SEO of your website. By creating a list of future blog posts, you can make it easier on yourself to maintain a posting schedule.
24. Update your website's UX
Simple updates to your website's user experience can drastically impact conversion rates. Make sure there is always at least one CTA visible on the page and check the site for any areas that might need some small changes to help customers find their way.
25. Analyze your numbers and gather data
The best way to know what is working on your website is by gathering data. Analyze how your pages and ads are doing, especially their Click Through Rates. If there is a dip in any area of your website, update these areas and continue to gather data on the changes.
26. Update your client avatar
Understanding your buying persona is very important for your brand and marketing. As your e-commerce store evolves it is very likely that your client avatar will evolve. Make sure you are considering any changes. Regularly check store data to learn who is making purchases from your store and build this avatar in more detail.
27. Update your branding guidelines PDF
Having accurate branding guidelines is very important, especially when multiple people are working on projects for the brand. Make sure you have a PDF of brand guidelines that are up to date with current practices. Clear brand guidelines make an easy reference point for onboarding and day to day questions.
28. Run a sale or promotion
A quick sale or promotion can increase website traffic for a significant period of time. Take the time to find listings that need an extra boost or best-selling items you want to promote, and share them in an email alongside a sale or promo announcement.
29. Educate yourself by investing in a course
Invest in yourself and your business by taking courses relevant to your brand. Learning new skills can help make you an expert on your industry and expand your knowledge to new areas.
30. Reach out to an industry friend or potential friend for a brainstorming session
Getting a new perspective can help you think of innovative, creative ideas. Reach out to someone in your industry to share ideas and you can both refresh content, product listings, and more!
31. Make sure social media accounts are up to date
Take time to update your social media accounts to put your best foot forward online. Make sure photos, logos, bios, etc. are all updated. Social media is the biggest way to connect with new customers and create brand awareness. Make it count!
32. Record an IG Reel or TikTok
Quick video content is very popular right now and easy to engage with. By expanding your content into this space, you can diversify your relationship with customers. The best performing videos are usually around 30 seconds, so get creative!
33. Set goals & action items
When you think of goals, write down the first three that come to mind. Set up action plans to work toward them this week or month. Consistent goal setting is very important to helping your business grow in the right direction. Creating SMART goals is a great way to create action plans you can follow through with.
34. Reach out to someone to collaborate
By collaborating with another person or brand, you both will gain a new audience. Make sure to choose someone to collaborate with that has a similar audience to you so the partnership makes sense. This is a great time to reference your customer avatar. 
35. Design a sticker to throw into packages as a fun freebie
Giving away a freebie with each order can make customers feel like they have a relationship with the business. Try to create a trendy, branded design that will allow for brand recognition when other people see them using it. 
36. Check for upcoming holidays
Holidays are a great opportunity to create popular content. Along with the most popular holidays, keep an eye out for things specific to your niche. For example, if your store focuses on dog accessories, you might post for National Adopt a Shelter Pet Day.
37. Update your Facebook page
For many businesses, Facebook is one form of social media that's overlooked. But depending on your audience, it may be important to give it some attention!
Facebook is the most widely used social media platform by Generation X and Baby Boomers, and it's also a place where many users look for store hours and other information. Take the time to update business hours, links, and contact information to give customers the best experience.
38. Connect your Facebook to your Instagram to post on both platforms
This is a quick fix that will allow you to easily post to Facebook anytime you make a post on Instagram. By connecting these accounts, you will minimize the amount of new content you need to create and save yourself some time!
39. Spend an hour engaging with your social media audiences
Engaging with your audience on social media will help expand your reach. Take time to like and save photos that relate to your brand and fit your niche. Additionally, make sure you are taking time to reply to comments so customers know you care!
40. Post on your Instagram Story 
Instagram stories are a quick way to reach a large portion of your followers. You can also use Instagram story features like polls to engage your audience.

Hint: Instagram likes when you use as many of its features as possible. By taking advantage of in-app features like polls, GIFs, question boxes, music, and other features, the app tends to push your content further. 
41. Record a Reel, Story, or TikTok showing the packaging process for your next order
Customers love seeing behind the scenes of a business. Create a short video of your packaging process and how it works! This can drive up engagement between you and your customers on social media.
42. Write a how-to post for creating an email campaign
This type of how-to content will bring in a different audience and new viewers to your website while building credibility for you within your niche.
43. Brainstorm 5-10 Reel ideas
Instagram is really leaning into its video content and the algorithm often favors it. Use your free time to brainstorm Reel ideas so you can keep posting consistently. 
44. Strategize your next 10 IG posts to make sure things are visually consistent <H2>
Planning your Instagram posts can help level up your account. By looking at multiple posts you can see how everything will look together in your feed. This allows you to make it visually consistent. Planning posts in advance will ensure you are never rushed trying to find content and that you are posting quality content.
45. Schedule a day off
You can't pour from an empty cup! Schedule time off for yourself and your team to ensure you are refreshed and motivated.
46. Create a how-to guide for your industry
Creating a how-to guide will make you an authority in your industry. This will bring in new site visits from others in your industry and make the brand more trustworthy in consumers' eyes.
47. Brainstorm course ideas and modules/content
Creating an online course is a great way to engage customers and diversify your streams of income. By creating an online course, you can help others and yourself! Start by brainstorming what knowledge you have to share and then break it down into modules.
48. User test your website for UX
The best way to see how your UX is functioning is to test it with real users. Have representatives go through the flow of your website and give their input on any areas that need improvement.
49. Run your site through a dead link checker
Identify any dead links and replace them with working links or remove them altogether. This is a quick and easy e-commerce update that can improve your SEO and decrease customer frustration.
50. Optimize pages with meta descriptions
If the pages on your site don't have meta descriptions or could use improvements, this is a great area to focus your time. Meta descriptions with SEO keywords will improve the position of your site when consumers use search engines.
These 50 tips are great ways to quickly update your store. By making these small changes and updates, you're improving your store for the long run! Which of these steps will you be incorporating during your next slow afternoon?
---

Ready to scale your online store? 
The E-Commerce Women In Business Mastermind –  your exclusive e-commerce coaching and e-commerce digital marketing mentorship for women looking to Grow and Scale your online store.  Click here to learn more
Yours in success,
Sarah x