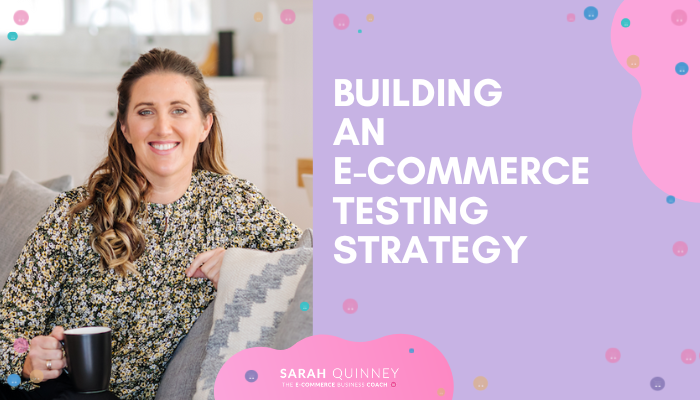 Building an E-commerce Testing Strategy
There are about 24 million e-commerce sites on the internet today, so it can be hard to get yours to stand out. One of the best ways to make sure your site is performing well is to implement elements that your users enjoy. This is where e-commerce testing comes into play.
What is e-commerce testing?
E-commerce testing is the process of evaluating the functionality of your e-commerce website and how your users react to it. Elements that can be tested include design, spec, features, pages, copy, and more. 
During testing you will learn what performs best with your audience, giving you insight into potential improvements that you can make to drive traffic and conversion. As you continue to work through your testing strategy you will gain an intuition of what your audience wants to see before even testing different functionalities.
Benefits of e-commerce testing
Improving the online shopping experience
With the rise of online shopping and a move away from in-store shopping, your website is the customers' main shopping experience. When you improve this experience you will leave a better impression of your brand. You can focus on many areas including copy, design, pages, and more.
Preventing poor cart experience
When your cart element isn't working on your site, customers can't effectively make purchases. E-commerce testing can help you make sure that the cart functionality is working at peak performance. You can also test out different ways to make using the cart function easier so that customers don't have any added friction when trying to make a purchase.
Ensuring security
Using e-commerce testing will help you identify security issues much quicker. By identifying these issues as soon as possible you will also be able to fix them sooner. Avoiding security issues will make your site safer and more reputable for users and could also help your site to perform better in search engines like Google.
Checking functionality
E-commerce testing gives you the opportunity to check how different functions are performing on your site. An example is the search feature. Is the function working for customers and providing them with relevant results? If so, great! If not, how can you improve or fix this? You can also improve things like site load time. This is important to keeping users on the site and reducing your bounce-back rate. 
Improving sales
The benefits of e-commerce testing all come down to one main point: they improve sales. When your website is running at peak performance, customers are easily navigating your site, and the whole experience is smooth, enjoyable, and functional, it contributes to sales. 
Where to focus your e-commerce testing strategy
There are many areas you can test on your site, but these 8 will help you build a solid strategy.
Mobile responsiveness
A high percentage of users shop on their phones. Therefore, the mobile website and shopping experience need to be just as prioritized as the desktop. Pay attention to the mobile site and how the desktop design "stacks" different elements. Ensure that the mobile site is easy to navigate and allows customers to seamlessly find what they're looking for.
Similarly, be sure to test different browsers, as design elements can get distorted. Test out your site on all different browser types as well as mobile phones because certain issues may only appear depending on the browser.
Security
Security is very important to customers. It should be continually improved, especially because customers will be inputting payment methods on your website. Testing the security of your site should be one of the core principles of your e-commerce testing strategy. You can also try testing out some copy that lets customers know the safety of their information is one of your top priorities.
Homepage
The homepage will most likely be a user's first impression of your brand. You want everything that fits into view on your homepage to serve a purpose. You can run many tests on your homepage including copy, call to action buttons, and the hero image. 
Test out different CTAs to measure the click-through rates, and swap out images to see if different visuals have any bearing on user activity. You'll also want to pay attention to the order of information presented on the home page in addition to load times, image load times, and refresh rates.
Product pages
Next are product pages. As an e-commerce seller, product pages are some of the most important parts of your website. The details in descriptions are very important and can mean the difference between a sale or lack thereof. 
Ideally, make product pages eye-catching by using descriptive visuals that are well-lit and high quality. Include accurate descriptions and details, measurements, commonly asked questions and answers (in either the regular description or a FAQ section), and any other pertinent information.
Additionally, some things that you can test on product pages include copy, pricing, product images, and testimonials (and their placement).
Recommended & featured products
Recommended products will give customers suggestions based on what they have previously viewed. Featured products are slightly different because these products are highlighted by the brand. These can be items you are really trying to push, or they could be tried and true customer favorites. 
Recommended and featured products are very important because they help keep customers engaged and encourage them to make a larger purchase. Use e-commerce tests to try out different products and algorithms to find what products will work best to entice your users.
Shopping cart
The shopping cart experience can make or break a sale. If it is not easy for customers to add and remove items, they may just give up on the purchase. You will want to make sure that the totals are visible (and easy to spot) and that the cart is easy to navigate. You can test out different page layouts to find what works best for you.
Checkout page
Your checkout page is where users pull the trigger on their final purchase. This is a great space to test out different elements. Countless updates could mean the completion of the sale!  There is plenty to test including copy, user signup process, accepted payment options, and more.
Social media
Last but not least, is social media. Social media is used by 4.6 billion people around the world. This means it is a great opportunity to market your e-commerce business and drive new visitors to your website. Your site should be optimized for sharing on many different social media platforms. And as stated earlier, your mobile version should be just as strong as the desktop version since many users could be directed from social media.
Next steps
In summary, e-commerce testing will assure that you are constantly improving your site. It will also help you better understand your customers and what they enjoy interacting with online. By crafting a strong e-commerce testing strategy and implementing important changes, you will be able to see an increase in sales made through your website. Next up: add some time to your calendar to find a place to start.
—

Ready to work with Sarah to scale your e-commerce store?
💃 The E-Commerce Women in Business Mastermind
The leading e-commerce mastermind with  a unique combination of
e-commerce business strategy + a leading community of established e-commerce brands where I'll support you step-by-step to scale your store.
Any questions? Just hit reply!
Yours in success
Sarah x