Increased Sales, Increased Revenue and Real Results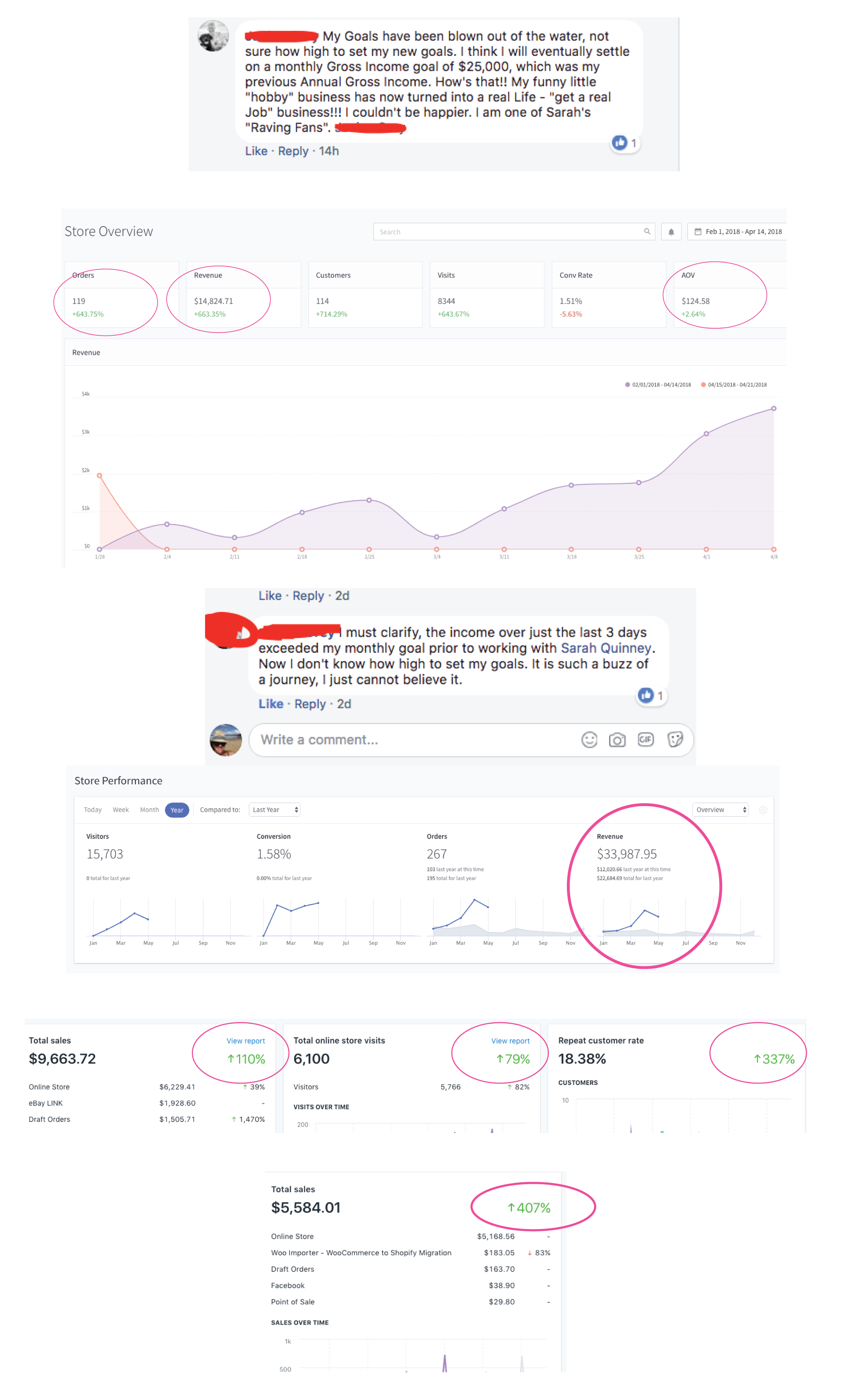 We achieved more in the first month than I could have done in 12 months on my own
Before starting with Sarah I had an idea of how I wanted my business to look but no idea how to get there. I was also pretty clear on the way I wanted to establish my brand but once again it seemed insurmountable without spending a fortune. After my first strategy session with Sarah I knew I'd made the right decision as we knocked down each barrier one by one.
I'm now across a whole range of areas in my business from Facebook ads through to properly knowing my numbers that Sarah has helped me de-mystify. Whatever needs working on Sarah has helped me with which has been such a great way to learn the ropes.
As a result of Sarah's guidance launching 4 months ago I have tripled my sales target in the last 3 months!
The best thing I would say is that Sarah was like working with an old friend. Nothing was a problem and if I wanted to change gears and work on something off topic there was never an issue at all. She was also amazingly patient as my computer skills aren't amazing but no matter what the question nothing was too simple to walk me through and solve.
In three months I have a clear brand strategy and prototypes in development.
Dana Inouye
I knew that I wanted to create a business that would yield more schedule flexibility and freedom. Also wanted to find a way to create an income.  I joined Sarah's mastermind, as I was struggling with everything! Namely, how to get started. Strategy; what steps to take in what order.
Sarah is wonderful at breaking things down so as to reduce overwhelm. I now have a landing page, FB and IG pages, a logo, product in development and prototypes in development.
The most delightful part of being in the mastermind is gaining insights from the other members on the coaching calls. She's constantly finding new, interesting, and valuable resources to share.
I would tell anyone wanting to start/grow a business to hop on Sarah's mastermind. The training is full of valuable information on the various aspects of e-commerce from building a brand to Facebook ads, order fulfilment, and sales tips.
But more importantly, Sarah is so down to earth, encouraging and generous with her time. She can help figure out just what needs to be focused on at a given time. For me, with 4 kids and 45 min (during naptime) a day to focus, it's baby steps. Sarah recognizes that building a business is a marathon, not a sprint, and supports you along the way, one small actionable step at a time.
"My Business grew by 100% thanks to working with Sarah "
Lisa Munro
After trying to work out how to increase the sales in my online shop on my own for some time, I decided it was time to book an appointment with Sarah to have someone who has done it successfully before teach me what to do.
Sarah suggested a new Shopify website and gave me enough information to build it myself which saved thousands, and only took me a few weeks. The end result is that my business is up 100% and I couldn't be happier! I highly recommend her for e-commerce businesses.
"I had my E-Commerce store and running with sales in 2 months with working with Sarah"
Jessica Ambrose
Before I started The E-Commerce Business Owners Mastermind I was really struggling with what to do to get my business up and running. I had an idea, but I was overwhelmed and didn't know where to start
Within 2 months I now have a website and products to sell! Within the first month of working with Sarah, I had my first products ready to sell and my website up and running and all the logistical pieces in place. Three months in and I'm steadily building my website visitors, email list and social media following and I've started making sales.
The great thing about working with Sarah is that I found myself veering from my direction and vision for my business and with her support I have been able to course correct really quickly rather than spending months or longer heading in the wrong direction.
Sarah is truly committed to the success of her clients. She cares deeply about the businesses of the people in the Mastermind. Her years of experience in eCommerce has really helped me understand this industry quickly and I'm sure has saved me more than the investment in the program in mistakes I would have made had I have not had her support. She's also very down to earth and realistic about what it takes to make this type of business work, which is refreshing when all I saw prior to finding Sarah was get-rich-quick dropshipping courses!
I would definitely recommend the Mastermind to anyone who is serious about starting or growing their eCommerce business. You get the experience of Sarah to help you, but also get an opportunity to learn from what others are doing and what is working in other businesses and industries.
"I got clear on my Business plan and Vision – I was able to rise my business above the online noise"
Sarah's knowledge of all things social media, the marketplace, building online businesses and nailing who your customer really is is, is so reassuring. Sarah helped me get clear on my business plan and vision and most importantly she helped me see myself through all the external noise of building an online business.
Sarah is brilliant at what she does and I highly recommend working with her to help you reach your business goals.
"Sarah was first to mind when it comes to business success"
When I needed some advice for setting up my new business, Sarah was the first person I thought of.
Her genuine interest in and passion for seeing her clients succeed is second to none. Her generosity, professionalism and wealth of experience make her such a wonderful mentor and advisor.
I would highly recommend Sarah to anyone needing any help setting up their business, developing their website, which is such a crucial element to a successful business or simply to bounce some ideas around with.
There is no wonder why she has been such a success in her own ventures, business and life in general!
"I moved from frustration to clarity in our very first coaching session"
"I was completely stuck with my business partner in creating a logical sales funnel for the products we had created. It was holding us back, and we were getting frustrated as we just wanted to feel like we were continually moving forward You were amazing!
We can't believe how easy it was for you to see the whole picture so clearly and to map our something during a coaching session when we had laboured over it for 2 weeks.
We didn't even think about the fact that simply creating two sales funnels instead of one, would provide the flexibility and adaptability we required. You're a true gem, Sarah.
The success you've had in your own previous businesses, the ease of working with you plus all the education and knowledge you have armed yourself with means you are one heck of a coach who we can trust has our best interest at heart.
If you're struggling with E-Commerce, Sarah is the one you need in your corner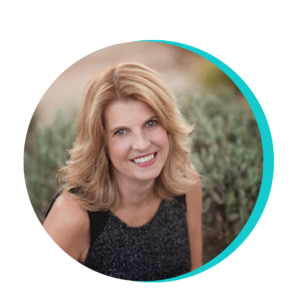 Before I started with Sarah I was struggling with basically everything on my e-commerce business. My website was a mess and I had no clear messaging. My Facebook ads weren't converting into sales and nothing was happening. I had worked with a different coach prior to meeting Sarah, and that was a waste of my money. I wished I had found Sarah sooner because she helped me so much. Sarah shared so much valuable information and really had clear, concise goals for me to work toward. My business is still in the launch stage, but it now is clearer what we are and what our the product is. Before meeting Sarah, it was a mess.
Two changes that I've recognized since joining Sarah's group are that I now have a much cleaner and clearer messaging on my website. My branding and marketing materials now are consistent and recognizable. I'm no longer just throwing ads up and seeing what works.  It's really helped.
Working with Sarah has been a true pleasure. She's very, very knowledgeable and really knows the e-commerce business.
I wished I had met her sooner! She also gives you clear goals to strive to reach along with the methodology to reach those goals. Sarah went above and beyond with her coaching and I highly recommend her.
Sarah would be the first person I recommend. She is personable, knowledgeable and will give you the tools you need to turn around your e-commerce business. If you're struggling with your e-commerce business, Sarah is the one you need in your corner.
"Sarahs Wealth of technical and E-commerce knowledge ensured out Project was an online success"
Sarah Quinney was the website developer for our charity fundraising project, Aussie Wellness Women.  Sarah is very professional, knowledgeable and a pleasure to work with.
The whole process was easy and effortless. We are so thrilled with Sarah's work that we would highly recommend her to anyone. xx
Sarah helped me realise E-Commerce is more than just selling products online.
"I came to Sarah with thoughts of setting up an eCommerce business. During our first session, Sarah helped me realized that eCommerce is much more than selling products from a website and she pointed out that I already had a thriving eCommerce business teaching authors. During our time together, Sarah helped me refine my program offerings and encouraged me to develop a coaching program to serve my audience.
While other eCommerce coaches would have taken me into the world of setting up stores and shipping products, Sarah helped me realize that I already had an eCommerce platform that could easily be developed and built upon. Thank you, Sarah, for your guidance and for helping me to build on my strengths."
The E-Commerce Mastermind Community is invaluable.
Lyndall Smith
Having started an online component of my retail store. I already had an existing website which had absolutely no traffic. I needed guidance and advise to get customers to my website. Sounds simple? Definitely not. I soon found out that my website had many faults and needed a lot of attention. I had no idea what to change or how to achieve it until Sarah came along and helped sort it all out.
Since joining I have increased traffic to my website and Increased knowledge & understanding of running an online store that I simply had no idea about.
The best part of being part of the Mastermind is being in a community, sharing experiences and not feeling alone in business, as I live remotely too. Having others to bounce ideas off and knowing there will be someone that can help when needed. Being accountable with timeframes is always needed to your achieve business goals.