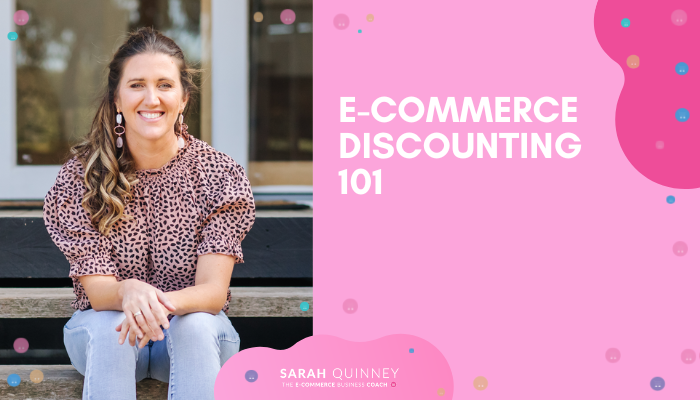 E-Commerce Discounting 101
Are you utilising discounts in your e-commerce store? According to Shopbib, 57% of shoppers only made a first-time purchase because they had a coupon! Consumers love e-commerce coupons, so use this comprehensive guide to you learn how to use them efficiently in your store.
The history of discounting
E-commerce discounting has changed a lot over the years. The first coupon was created by Coca-Cola in 1887, and this helped solidify them as a household name. Now, almost every brand utilises coupons to drive sales performance.
In the past, discounting was based on calendars and holidays. You knew that there would be sales on Black Friday, holidays, and at the conclusion of each fashion season. Today, this strategy is not as common. Many brands are creating more frequent sales and promotions to get customers in the door.
At the same time, customers are becoming more selective about the brands they shop with. They have higher standards and care about things like customer service and environmental impact over just what brand has the best sales. According to LoyaltyLion, 68% of customers consider a brand's values and would be more likely to stick with them if the values are similar to their own. This is one reason why it is especially important to expand your strategy past calendar-driven discounts.
Why people love discounts
The main reason that consumers love discounts is based in psychology. Studies have shown that people feel excitement, joy, and pleasure when they receive a major e-commerce discount. This is because being on the receiving end of a sale triggers an increase in oxytocin, which is known as the "feel-good" hormone. That means that enjoying a sale has the same effect as petting a dog or spending time with a significant other!
Discounts also encourage new shoppers to take the leap and finally make a purchase from your store. When new customers are presented with a coupon, they often have to spend more time and energy convincing themselves not to buy the item. These coupons are an easy way to soft-sell shoppers that haven't purchased from your store before.
Another way that e-commerce coupons help your store is by creating a sense of urgency. Discounts encourage customers to purchase quickly due to the scarcity mentality. Customers don't like feeling like they may miss out on a deal (referred to as "anticipatory regret"), which encourages sales. By recognizing and understanding the psychological benefits behind why people love discounts, you can create a functional strategy for your brand.
Pros and cons of e-commerce discounting
The positive side to discounting is very clear: bringing in new customers, removing barriers to purchase, and encouraging shoppers to spend more. Discounting can even help build brand loyalty with consumers. But, what are the downsides to discounting?
Throwing too many promotions in the mix together can lead to reduced profits. Additionally, it could potentially hurt your brand perception by giving customers the idea that your items were overpriced in the first place. This can lead to reduced trust between you and your customers.
The best way to use discounts without hurting your store is to make sure they are relevant and balanced with time periods of regular pricing. To learn more about how to avoid the potentially damaging effects of discounting check out some of my tips here.
Strategies to implement e-commerce discounting
One study compared constantly running discounts to birthday offers, compounding loyalty points, shipping discounts, and early access to sales. The study found that all types of promotions created the same positive reaction in shoppers. Customers proved to be just as likely to purchase from brands that ran these varying e-commerce promos, compared to those with constant discounts.
This indicates that for your business, any type of promo is going to be beneficial. This gives you the upper hand in strategically implementing them throughout the year to best suite both your store and your customers.
There are many different types of discounts that you can use, but these are some of the most common:
Dollar or Percentage Off
This is the type of discount that most frequently comes to mind. It is a straightforward method that offers a reduced price such as 15% or $15 off an item or order. Smaller discounts work well to gain the interest of customers, while bigger discounts are good to move inventory you have struggled to sell.
Buy One, Get One Free
This discount is exactly what it sounds like: customers get an item free with the purchase of one. This discount can have stipulations on the types of items allowed, or can even be tweaked to "Buy One, Get One 50% Off."
Tiered Threshold Discounts
This type of discount works to encourage shoppers to order more to receive their discount. Some examples include "Buy 2 Items, Get the 3rd Free" or "Get 10% Off an Order of $100 or More."
Rebates
This is when a customer receives a refund for a specific amount after their purchase of an item. Rebates are often used for larger items and require the customer to mail something to receive the money back. Because this is more work for customers, it is not as motivating as other types of discounts.
Free Shipping
Offering free shipping has become popular with online brands because it removes a large barrier to purchasing. This is most commonly seen when you hit a certain threshold, for example, "Free Shipping When you Spend $100+."
Bundling
This discount comes into play when customers receive a special price for buying specific items together. An example would be "Save $5 When You Buy 3 Pairs of Socks'" This encourages customers to buy more items than planned because they feel good about getting the free item.
Free gift with purchase
This promo takes place when a customer receives an advertised item for free after making a purchase from your store. This type of discount can also be used with a price threshold, such as "Spend $100, Get A Free Tote Bag." This works similarly to encourage your customers to spend more than they may have been originally intending to.
Finding what works
There are many strategies for e-commerce discounting, but you will need to find what works best for you and your customers. Test out a couple of these strategies for the same length of time and collect data on your sales. Then, you can compare to see which one performs the best for you. As your customers grow and change, be prepared to switch up the types of promos you offer to build the best discount strategy for your brand.
—

—
Ready to work with Sarah to scale your e-commerce store?
🚀  Facebook Ads for E-Commerce Business Owners
You get hands-on support and training, as well as auditing Facebook Ads campaigns for your eCommerce business. If you've had enough with agencies and want to start running your ads in-house or simply scale using the latest profitable ad strategy- this program is for you!
💃 The E-Commerce Women in Business Mastermind
The leading e-commerce mastermind with  a unique combination of
e-commerce business strategy + a leading community of established e-commerce brands where I'll support you step-by-step to scale your store.
Any questions? Just hit reply!
Yours in success
Sarah x