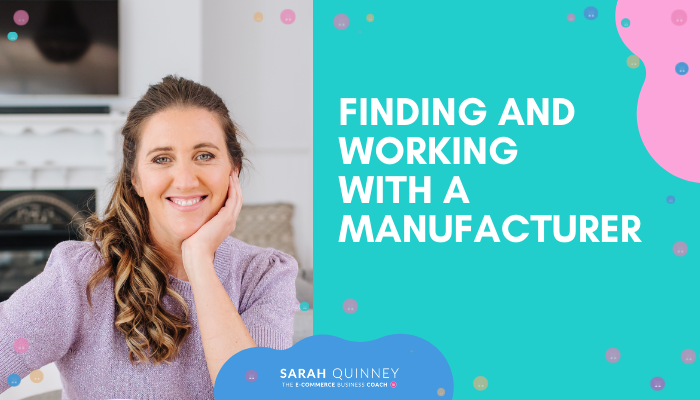 How to Get Your Product Made: Finding and Working With a Manufacturer
There it is! You have nailed the idea, research, and design for a product that could thrive on the market, but what are your next steps? Now what? How do you get that product made? 
Creating and bringing a product to the market is a daunting task, to say the least, but all it requires is a bit of research and strategizing. When you and your product design are ready, you're going to want to take time and cover all your bases before you select the manufacturer you want to go with.
Sourcing Product Manufacturing
Sourcing a manufacturer should not be taken lightly.  You don't want to go with a product manufacturing machine — you need a company that will take the time to understand your businesses and your goals, and will work hand in hand to ensure efficient production. Think of this as finding a partner for your business.
As you conduct your manufacturing research, there are vital differences you need to keep in mind, especially when it comes to domestic vs. international manufacturing. 
Domestic vs. International Manufacturing
When sourcing a manufacturer, one of the first questions to consider is this: Do you want to have it made overseas or in your country? You likely won't know the answer immediately, and that's okay. There are pros and cons to both options.
The United Staes imports billions of dollars of goods each year. Of that, a large fraction come from China. An article by Global Trade Specialists, Inc. states, "U.S. goods imports from China totaled $539.5 billion in 2018, up 6.7% ($34.0 billion) from 2017, and up 59.7% from 2008. U.S. imports from [China] are up 427% from 2001 (pre-WTO accession)." Those numbers are 3 years old, so you can only imagine how much higher in the billions those dollar amounts have reached. 
Though the United States imports heavy amounts from overseas, they are not alone. Australia is also a major importer from China as well. While the country only imports a fraction of what the US does, their number still reached US$61.05 Billion during 2020 ($84 billion AUD).
Domestic vs. International Pros and Cons
Before choosing a manufacturer, consider the pros and cons of both domestic and international options.
International Manufacturing Pros:
Low production cost

Lots of manufacturing options

Ease of finding manufacturers (usually)
International Manufacturing Cons:
Language barriers

Shipping times

Product compliance/customs (depending on your country)

Physical quality control/physical inspections

No local economic impact to your country
Domestic Manufacturing Pros:
Typically no language barrier

Ability to perform onsite physical quality control/physical inspections

Shorter shipping times

Easier product compliance/no customs

Local economic impact
Domestic Manufacturing Cons:
High(er) manufacturing costs

Can sometimes be harder to find manufacturers
Though more pros and cons exist, these are some of the most important.
Qualities to Look for in a Product Manufacturing Company
Whether you go overseas or keep manufacturing domestic, there are some general characteristics you should look for when determining the best fit.
Product Field
Imagine you created a product in the health and wellness field. You go on your journey to find a manufacturer and you come across one that specializes in health and wellness products and one that specializes in industrial products. Which are you going to choose? The answer here is pretty obvious. 
If it is possible for your situation, find and utilize manufacturers in your industry. In most cases, these industry-specific manufacturers will have more background knowledge of your market and a history of making similar products in your field. This is better for quality control and overall production.
Efficiency & Understanding
No product manufacturing company should obtain your product specs, look at them, and be good to go. Be sure to find a manufacturer that tries to understand your product and business so they can produce something top tier and that meets (and hopefully even exceeds) your expectations.
Great products aren't made overnight. A good manufacturer will take the time to hold meetings to understand your product and goals.
Time
Lastly, take your time! If you rush the process of making your product, mistakes could be made that could cost you in the end.
If the manufacturer you choose gives you an unrealistic (meaning very fast) turnaround time, that is a red flag and something you may want to review or look into. Manufacturing a product generally doesn't happen insanely fast. This is important to keep in mind from the start of your journey.
Sourcing Experts
Outside of the manufacturing world, there are field experts that will partner with you to ensure your product is made to spec and meets your expectations. These experts can assist in the logistics of getting your product made and can help with regulations, customs, etc. if you choose to manufacture overseas.
Companies like Gembah assist in the manufacturing process and help ease the burden on your shoulders. If you're new to product creation or want to ensure that you're on the right track, going with a sourcing expert like Gembah can make a world of difference to your product and profit down the road.
Don't let the complexity of sourcing deter you from finding the best option for your business. Take your time and make sure your product meets your expectations and is something you would want to purchase a customer. Good luck!

Ready to scale your online store?
The E-Commerce Women In Business Mastermind –  your exclusive e-commerce coaching and e-commerce digital marketing mentorship for women looking to Grow and Scale your online store.  Click here to learn more
Yours in success,
Sarah x