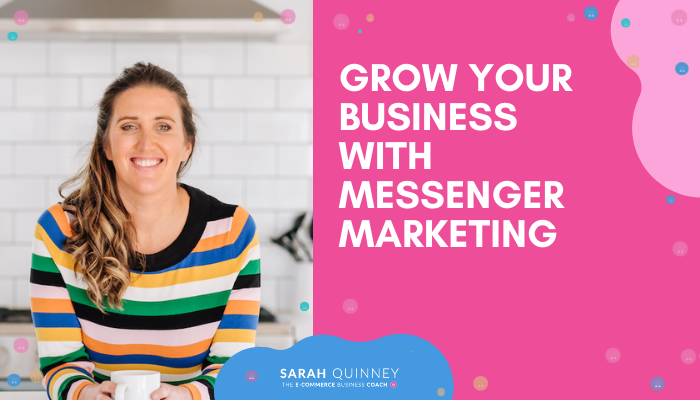 Grow Your Business with Messenger Marketing
Facebook Messenger is continuing to make a name for itself when it comes to Marketing, and it's a method E-Commerce shop owners can undoubtedly take advantage of. When used correctly, it can be an excellent way to reach your target market, drive website traffic, and grow your audience.  
What is Messenger Marketing?
Simply put, it is a form of marketing that utilizes Facebook's chat, both through Facebook on desktop and through the Messenger app on mobile. However, the marketing method doesn't involve sitting logged into a Facebook account messaging customers. Instead, businesses can integrate the software into their website through a third-party app or extension.
Messenger marketing serves multiple purposes. The first is customer service. When integrated into your website, Messenger serves as a great way for customers to easily ask questions. With most platforms, there will be a chat widget in the bottom corner of your site (more on that in a moment).
The second purpose of Messenger marketing involves shop updates. It's a quick, easy, and efficient way to keep customers in the loop about any news regarding your business, like sales or restock alerts. It functions similar to signing up for text message alerts. Once somebody has subscribed, they will receive marketing messages and updates through the mobile Messenger app. 
Why Facebook Messenger is Beneficial for Businesses
Many businesses utilize Facebook business pages. It is one of the easiest ways to help your customers stay up-to-date about sales, promotions, events, or new products. In essence, Messenger marketing can be an extension of your business's Facebook presence.
Your business's social media team can monitor the Facebook page's Messenger inbox to stay on top of any inquiries that customers may have, whether that be while they're shopping or in general. This method allows prompt responses, and it's more personal than email marketing.
Messenger & Chatbots
Another way to implement Messenger is through chatbots. Chatbots generate automatic messages to chat with visitors of websites or social media pages.
Have you ever visited a website and noticed a little automated message in the bottom right corner of the screen saying "Hi, is there something I can help you with?"
That is a chatbot at work! 
Chatbots can be programmed with keywords in order to send auto-responses when customers ask questions. With this method, responses are instant, which is great for customer service. Chatbots make it easier and more casual for the customer so they can quickly get the answers that they are seeking. 
Certain chatbots are integrated directly with Messenger, so users can also access their messages via Facebook. 
Uses of Facebook Messenger for Businesses 
Facebook Messenger is more than a social communication tool. Did you know that people believe messaging is the second-best way to talk to a business? It shows, too, because people and businesses account for approximately two billion messages each month! But, not all of those messages were to a real customer service representative — a large portion was sent to businesses' chatbots! 
Chatbots can save your social media team lots of time. Because these bots send automatic responses based on inquiry keywords, each successful response is one less customer service inquiry. Your team can stop scrolling through a bottomless inbox and answering endless messages and instead dedicate their time to other projects. 
Chatbots can assist customers with questions about an item, track an order, gather feedback, and provide support. However, at this point at least, chatbots cannot do every little task. 
There will be instances where a customer will want to speak with a real person, and chatbots can be programmed to guide them towards these steps. Bots can provide a customer service phone number or email address. Somebody should always be available on the other end of the number or email to answer customers' questions as soon as possible.
How to Set Up Facebook Messenger Marketing
Your business must have a business Facebook page before Messenger marketing can be set up. Want to hear some good news? It is possible to integrate Facebook Messenger into your business's website via the chat plugin. 
If you go to the page settings and click on the "messaging" tab, there is an option that says "add Messenger to your website." You can then set it up as you see fit. Check out this article for more information. 
As far as chatbots go, there are many to choose from. Some offer free trials so you can test them out and see how you like them. Others have a free version, but they do not have as many features as a paid version would. Many chatbots offer different plans at different prices. The more expensive a plan, the more features it includes. Try out a few and choose the perfect option for your business!
One example is chatbot.com. You can easily integrate this tool into your WordPress website. The app even features some templates to help you get started. They offer a free 14-day trial so you can test it out first, and then their plans start at $50 per month. 
Another example is ManyChat, otherwise known as the Facebook Messenger chatbot builder. This chatbot is perfect for any business with a very active Facebook page that receives a large volume of messages. 
Consider integrating this powerful tool
Messenger marketing can be a powerful business tool when used correctly. However, keep in mind that your online business needs to be compliant with the General Data Protection Regulation (GDPR) rules. 
When somebody signs up to receive message alerts from a business or company, their personal data is recorded and stored. The GDPR protects this personal data from being used. Businesses receive massive fines if this agreement is broken, so take it seriously! 
If your business has a strong social media presence, it is worth it to give Facebook Messenger marketing a try. It could end up being what takes your business to the next level.
—
What do you say? Will you be integrating Messenger into your marketing strategy?

Ready to scale your online store? 
The E-Commerce Women In Business Mastermind –  your exclusive e-commerce coaching and e-commerce digital marketing mentorship for women looking to Grow and Scale your online store.  Click here to learn more
Yours in success,
Sarah x