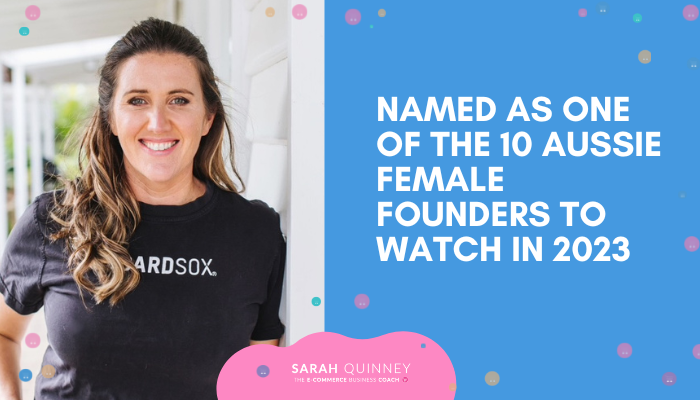 Sarah Quinney Named as one top 10 Aussie Founders to Watch in 2023
My passion for eCommerce coaching and my passion for surfing led me to start one of Australia's fastest-growing surf brands. Along side my Business Partner we found  Boardsox, a company that produces eco-friendly waxed cotton board bags for surfers I have named as one of the top 10 female founders to watch in 2023 by Smart Company. T
Boardsox is a unique company that offers sustainable and durable alternatives to traditional surfboard bags. The company's waxed cotton bags are not only environmentally friendly but also provide superior protection for surfboards. They are designed to withstand the harsh conditions of the ocean and keep surfboards in top condition.
I pride myself on being a coach that not only acts as a mentor for leading female led e-commerce brands across the globe – but I'm also walking the walk.  I am a big believer that if your are looking to work with e-commerce coach find someone ( if not me) who has started a brand from the ground up – not just purchased one and declared it theirs ( sorry pet hate). Find a coach that has felt all the feels at every level of growing a successful e-commerce brand.
*****
Sarah's passion for surfing and her love for the ocean led her to start Boardsox. As a surfer herself, she understood the importance of protecting surfboards and the need for sustainable alternatives. She saw an opportunity to create a product that would not only protect surfboards but also make a positive impact on the environment.
Since its launch, Boardsox has grown exponentially, with customers all over the world. The company has also been recognized for its sustainable practices and has won several awards for its eco-friendly products.
Sarah's dedication to creating a sustainable product and her drive to succeed have made her a role model for other female entrepreneurs. Her recognition as one of the top 10 female founders to watch in 2023 is a testament to her hard work and determination.
In conclusion, Sarah Quinney's journey with Boardsox is an inspiration for many.