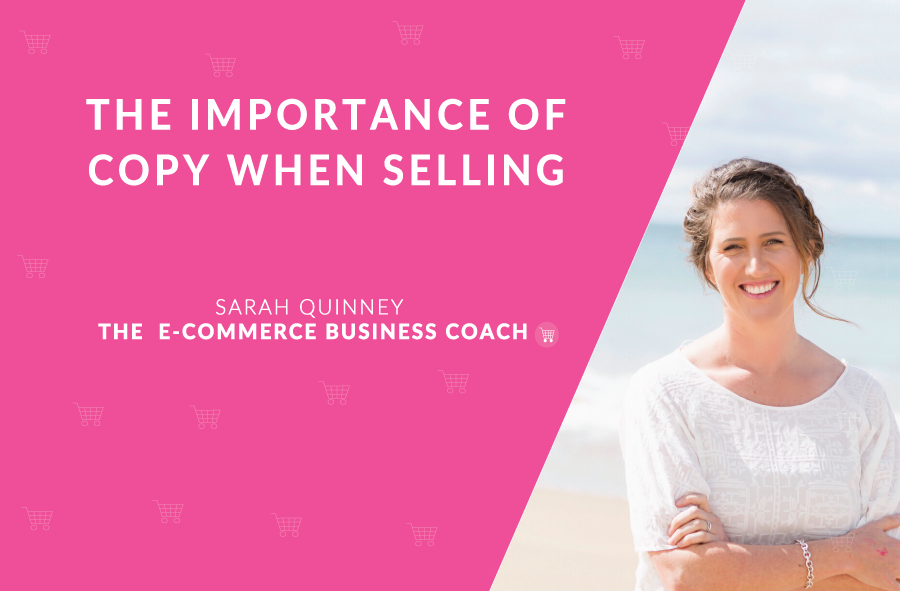 The Importance of Copy when Selling Products
As an E-Commerce retailer, your copy is everything. I simply cannot stress this enough. It is imperative that you create compelling copy that will gain your customer's attention, provide them with information, and convince them that they need your product or service.
After all, the point of operating an E-Commerce platform is to bring in revenue. If you aren't convincing your customer that they need what you can provide, you aren't going to be making sales!
To write an effective product description, you must clearly relay the message of the item to your customer. When the user is finished reading the description, they must know all about the product. They should know what it does, how it can be used, why it is necessary, etc.
In order to effectively relay this information to your user, there are some key practices that you can easily implement. From determining your target audience to incorporating imaginative copy, try these tips next time you go to write some product descriptions.

There's an old saying:
'A good copywriter never goes hungry'
Because if you can write persuasive copy?
You can sell.
And if you can sell?
You can make yourself money – either by selling someone else's product or your own
If you can:
– Cut through the noise and capture attention
– Inspire strong emotions that lead people to action
– Present your offers in a powerful way that persuades
You're always going to be able to create income and opportunities in your Business
Speak to your audience
First, it is crucial to speak to your specific audience. If you are speaking to a group of people totally uninterested in your product, that will do you no good. Your product description will be broad, bland, and boring.
You need to speak to those that are intentionally visiting your product pages and you must understand who they are. Find specific information about your customer base, and use vocabulary, references, and humor (if appropriate) that will appeal to them.
Create a conversation with your specific buyer that will evoke interest and really resonate with them. Speak to them on their level to create a sense of camaraderie and trust.
Tell a story
You need to tell a story with your product descriptions. Instead of simply listing out the benefits (which can be extremely boring), give your reader a user-based story that will share some information about the product and tell the user how the product has worked to improve the lives of customers.
Through instilling a story into the mind of your customer, they will begin to think about how their lives could be made better by purchasing your product. By allowing them to imagine that they own your product, you're already half way through the process of convincing the user to buy it.
Create a sense of emotion by allowing the user to really think about how their life will be better with your product.
Make it easy to read
Nobody wants to spend a ton of time reading a product description. On top of that, nobody wants to read a product description full of challenging vocabulary that is hard to digest.
A great way to ensure that your copy is easy to read is through keeping it short and sweet. Eliminate the "fluff" in your copy by getting rid of everything that is not of importance. 
To keep it short and simple, you could utilize bullet points to list different features and benefits.
Short sentences are perfectly fine and work well to make the copy easier to read. 
A combination of easy to read sentences coupled with a short story or "imaginative" scenario makes for a great, effective product description.
Be descriptive
Nobody is going to buy a product if they are not 100% clear on what the item is like.
Describe your product. Talk about the size, the colors, the textures, and the materials. Keeping it straight to the point, be as descriptive as possible. Since your user is not able to physically hold your item before purchasing it, you need to give them the next best thing: the descriptive details.
Be bold in your description, and let your users play with their imagination. Make them feel as though they are as close to your item as they can get.
—
Writing product descriptions can be a tricky thing. After all, they can make or break your business. How are you going to implement these tips to write effective product descriptions?
Sarah


P.S. When you are ready to work with Sarah and her team here are 3 options to start and scale your E-Commerce Brand.

1.  The E-Commerce  Women in Business Owners Mastermind – The leading and  exclusive Women's only 1:1 and E-Commerce Mastermind + Community with hands-on support start and scale your E-Commerce online store – Apply here

2. VIP 1:1 E-Commerce Coaching –   VIP 1:1 E-Commerce coaching for established E-Commerce brands looking for next level growth and support – Apply here

3. The E-Commerce Agency – Facebook Ads and Website Optimisation managed by E-Commerce Experts. See our clients amazing results and learn more here