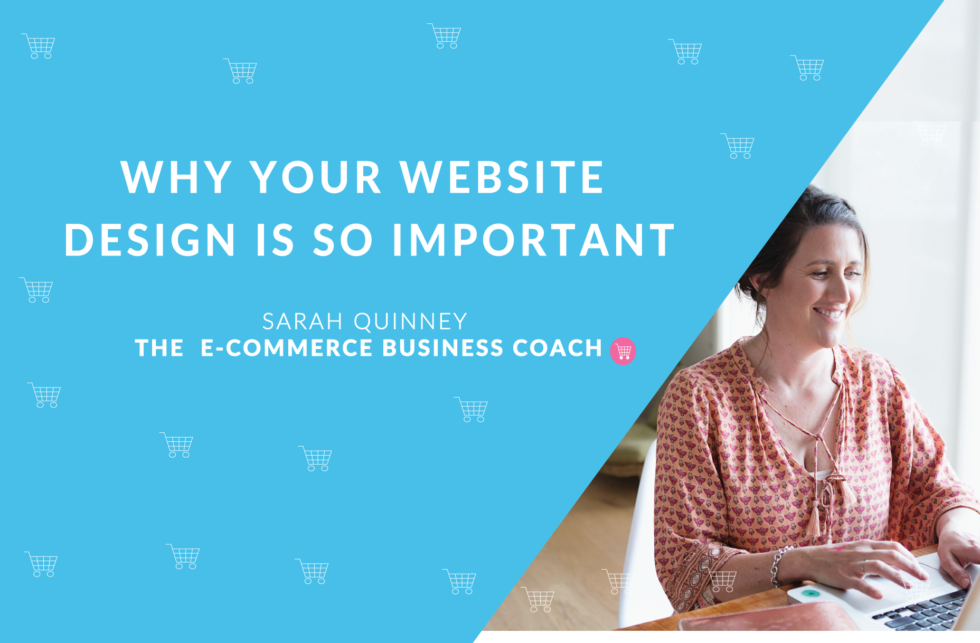 The Importance of website design for your e-commerce store

Your website is the most important piece of real estate your e-commerce business has.  

Your website is your shopfront – your customers first and last impression. 

If you're not presenting your visitors with an attractive website and packaging your products nicely, you're definitely leaving money on the table.  

The great news is E-Commerce websites have come a very long way in the last decade, and even more so during the last few years. Gone are the coded websites with expensive web developers that you paid thousands and thousands for… 

Now we have hosted platforms such as Shopify, Big Commerce, and Woo Commerce just to name a few, that can you get you up and running very quickly.

Here's the thing, with all these amazing themes available I am still seeing websites that are designed terribly, slow on loading, lack trust and social proof.

E-Commerce websites need to be updated and maintained on a regular basis, it encourages engagement and continued visitation.

> Imagery needs to be vivid and professional. Your copy and product descriptions need to jump off the page!

If your website isn't converting traffic here are some questions to ask:

Is my website helping me meet my sales goals?

Is my website providing the information my buyer is looking for?

Are my product descriptions solving my customer's problems?

Does my website provide the opportunities to convert my customer quickly?

Is my abandon cart rate reducing or increasing?

Am I incorporating personalized content into my website?

Is my design old and outdated?

Is my branding consistent?
Today I want to share with you 5 Tips to get your website converting sales:

1. OPTIMISED NAVIGATION

Your Navigation structure is the menu of your categories at the top bar at the top of your website ( it should ideally appear on the top header area of your website and not on the side ) Easy to use and functional navigation helps new shoppers find what they're looking for without hassle and quickly. 

An online store needs to be simple in the way that it functions, if not in the design itself. 

There should be clear Call to Actions. SHOP HERE. BUY NOW. CLICK THIS LINK.

At no point should your customer be left wondering what to do next.

2. COMPATIBILITY

Is your E-Commerce website mobile responsive? Your store's design, look and function should work well on every device, no matter what the size. 

3. TRANSPARENCY

You contact information and policies for shipping and returns must be easy to find. Having easy to read links in the footer of your website is standard practice. 


4. PRODUCT DESCRIPTIONS MUST MATCH YOUR PRODUCT

There are few areas where sites can really differentiate themselves from their competitors and product descriptions are one of them. 

A bad product description can make or break a sale, it is also really important to maintain a level of consistency in your product descriptions, as consumers expect to find the same tone of voice across a site.

Similarly, the length and detail included should remain consistent otherwise customers may be disappointed when product pages don't live up to expectations and are left asking questions which lead to customers leaving your store.

5. TRUST


Now more than ever, online shoppers are hyper-aware of their privacy and security.  
If your e-commerce solution doesn't automatically display a notice to customers upon checkout that they are using a secure server as Shopify does, you'll want to be sure you let your customers know your website is secure by displaying your SSL certificate symbol or a notice informing them of the fact.
Having a Strong Design also Makes a Huge Difference, and with so many amazing themes that can be adapted to suit your needs, there really is no excuse for having a dated design.
If you're on Shopify! My all-time favourite themes ( that most of my clients use) is Out of the Sandbox! – highly recommended and will save you thousands of developer themes!!!! 


Ready to grow your e-commerce business, here are 3 options to start and scale your e-commerce store.

1. Want professional help in setting up and optimizing your Facebook™ Ad campaigns? Learn more here

2. Apply for  1:1 VIP e-commerce coaching– My High-level, Growth, strategy and my done-with-you 1:1 e-commerce coaching programs.

2. The E-Commerce Business Owners Mastermind – Growth, strategy and community of amazing e-commerce business owners, starting and scaling their brands!