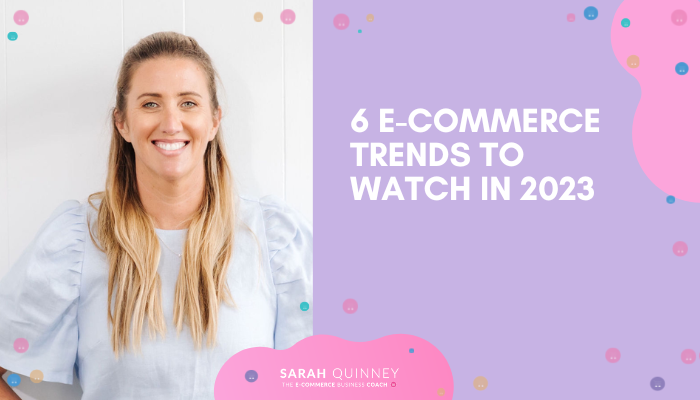 6 E-commerce Trends to Watch In 2023
E-commerce is always growing. So much so, that it's expected to increase another 10% this year. An increase of that size will make the industry worth over 6 trillion dollars. As the e-commerce industry continues to grow and change, and so do the trends that help shape it. As consumers are ever-changing it can be hard to know how to keep up with your e-commerce business. Check out these 6 e-commerce trends to watch in 2023 to see how you can elevate your brand.
6 e-commerce trends to watch
Augmented reality
A trend that has been growing in popularity during 2022 is augmented reality. This new technology is expected to continue to grow going into 2023. Augmented reality is technology that allows customers to virtually try on, adjust, or place products that they are considering buying online. Customers no longer have to wonder if items will work on their bodies or in their home. The biggest downside to augmented reality is that it can be a heavy technical lift for businesses. But, it adds a huge level of convenience for customers and has really won them over.
Social media for e-commerce
Consumers use social media for everything from product discovery to research to purchasing. It's almost necessary for e-commerce businesses to participate in social media these days. The Future of Commerce reported that in 2022 alone, there were an estimated 992 billion dollars of sales via social media e-commerce. There are many important aspects of social media for brands including organic content, paid ads, and engagement. But, one of the most important trends going into 2023 is the use of TikTok as a search engine. In the same article, The Future of Commerce reports that Generation Z uses TikTok as a search engine more frequently than Google. In 2023 brands need to be taking advantage of this trend and create content optimized for search on TikTok. 
User-generated content
User-generated content (UGC) is content customers post on their own social media accounts that mention or show them using your products. It can do a lot for your business organically, but you can also use this content on your social accounts with permission. UGC comes in many forms like reviews, social media posts, and blogs. One of the most important parts of UGC is that it will bring more authenticity to your brand than what you can create yourself. There are many ways to encourage UGC from your customers in 2023 like paying UGC creators, creating hashtag competitions, sending out free samples, etc. 
Inflation and budget constraints
One of the not so exciting trends that isn't going anywhere in 2023 is inflation. Because of this many consumers have tighter budgets and aren't able to spring for e-commerce purchases. Going into 2023 businesses will need to meet consumers' concerns and help them see the value of spending the limited expendable income that they have. There are two things that can help meet customers halfway. The first is a solid return policy. The second is providing budget-friendly versions of products that can be sold at a lower price point.
One-click payment
Many e-commerce brands are moving towards one-click ordering. This feature allows customers to easily (and quickly) make a purchase by using another program like PayPal. It also provides the option to use previously saved information to autofill form fields with payment information. This tool is very valuable to businesses because are more likely to abandon their cart if checkout is difficult. One of the most popular examples of this is the one-click ordering available on Amazon. Many businesses have seen an uptick in sales since implementing one-click payment and removing some friction when ordering. 
Video shopping
Video shopping is on the rise and this is largely because of the increase in consumption of short-term video content on social media sites like TikTok, Instagram, YouTube, etc. This form of shopping is when customers can learn about products, see it in use, and even hear customer reviews from the comfort of their own home. Videos help customers to see more details on the products they want to buy and make them feel informed before purchasing. Using social media to create their video content helps lower advertising costs compared to creating large productions like commercials. It also helps brands see customer behavior and preferences firsthand, leading to better products overall. 
How to keep up with the trends
It is always important for e-commerce brands to keep up with the market trends. By staying ahead of the curve you can make sure your business continues to reach consumers. To keep up with new trends, continue to check my e-commerce blog for more tips and insight.
–

We're the top eCommerce brands that come to grow their store. The leading e-commerce mastermind for established brands –  with a unique combination of
e-commerce, business and proven strategy for your success.
Any questions? Just hit reply!
Yours in success
Sarah x