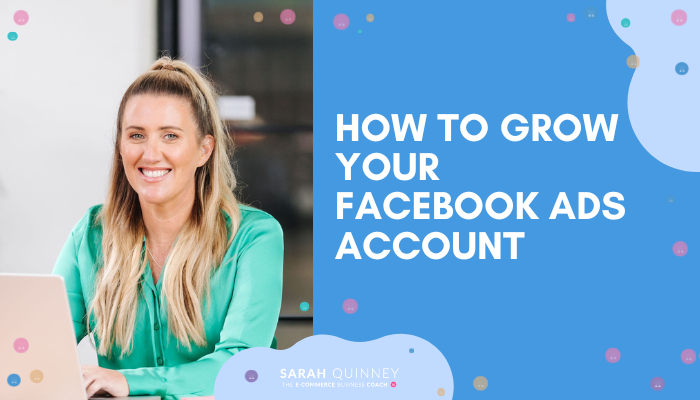 How to Grow Your Facebook Ads Account
Mastering Facebook's Ads Manager is a feat of its own. Between different Campaigns, different Ad Sets and different types of Ads, it can be difficult to get the swing of things and figure out the best strategy for getting started. 
Today, I'm going to walk you through a few ways to grow your Facebook Ads account, including best practices for establishing yourself as a reputable advertiser with Facebook.
To begin, let's look at the different types of ads and why you'd want to use each one.
Choose the correct ad type
When you set up an ad, you're presented with three types of Campaign Objectives: Awareness, Consideration, and Conversion.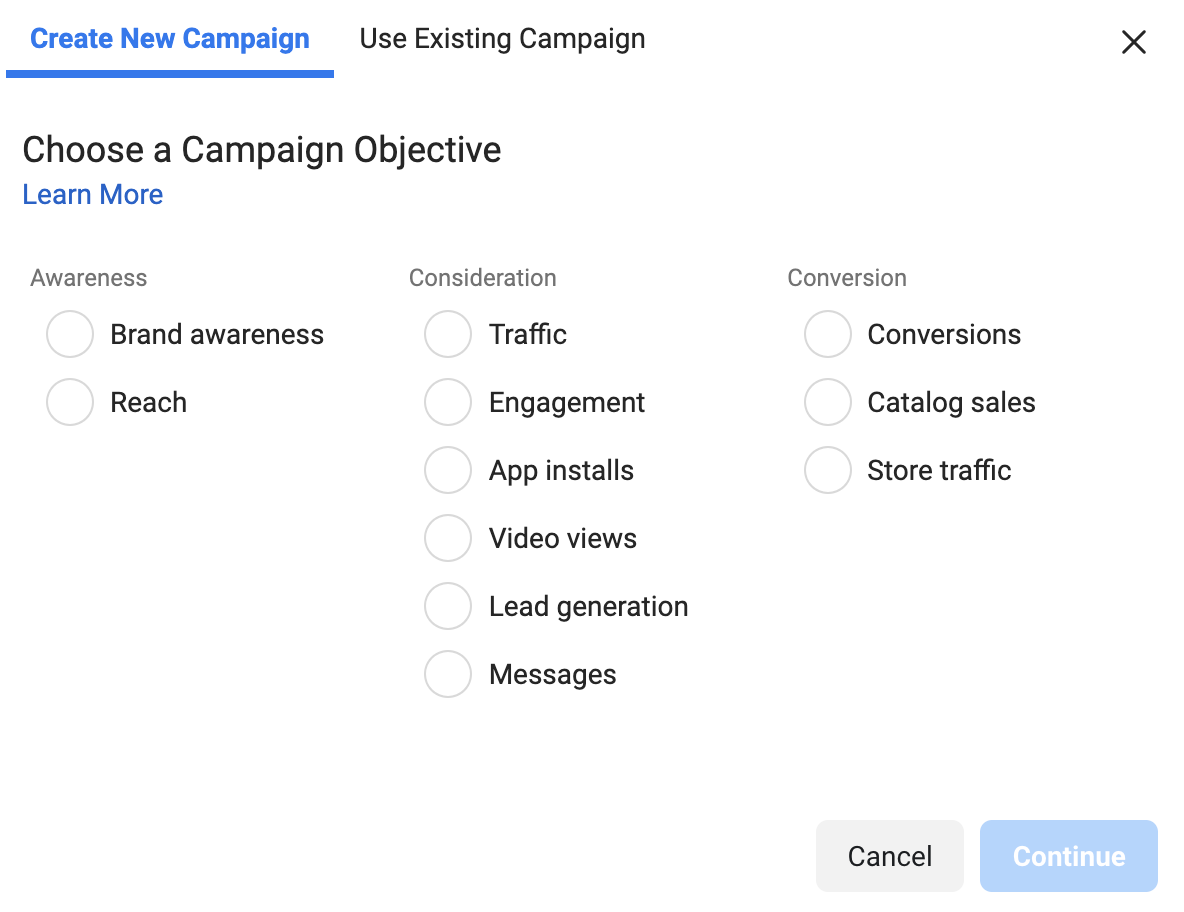 Think of these as three tiers or steps, where each objective builds on the previous: 
Awareness

is the introduction (introducing the viewer to your brand or product), 

Consideration

is the part where they click your ad and think to themselves "hmmm, this brand is neat), and 

Conversion

is where they buy the product, sign up, or do the thing you wanted them to do.
Awareness ads cost the least and give you the most bang for your buck. They show your ad to as many people as possible for the lowest cost per person. You get more eyes on your content for fewer pennies, and it's a way to say "Hi, my brand exists. See?"
When you're new and trying to grow your Facebook Ads account, it's great to start with an Awareness ad before moving on to Consideration or Conversion ads. This is for multiple reasons that we'll get into later in this post, but it helps establish leads while also building a reputable ad account. 
Consideration ads are the next tier up and essentially ask the viewer to engage in some way, whether it's sending your brand a message, signing up for your email list, or simply clicking through to your website. There are a few different types of these ads:
Traffic – Facebook will show ads to the people who are most likely to click through to your website or profile and load your landing page
Engagement – Facebook will send the ad to the people most likely to like, comment, or engage in some way
Lead Generation

– These ads help you identify leads, whether through email sign ups or any other lead generation tool that you may use

Messages

– This one is great for encouraging viewers to message your brand, which can be helpful for more complex offers 
Finally, Conversion ads are made with the intention of selling or converting in some way. You're trying to make that sale, turn that lead into a paying customer, etc. These ads are the most expensive as they cost the most per click. They can be tracked by using a Facebook Pixel, but that's a topic for another time. 
Properly set up your ad
We've covered the different types of ads, now let's discuss how to get started. 
Campaigns, Explained

In your Account Overview, you'll see your different Campaigns. These can be described as the overarching objective for your Ads, such as "Spring Sale"  or "Product Launch."
Within the campaigns are the different Ad Sets. Inside the Ad Sets will be the individual Ad(s).   
For instance, if you were advertising a single product but targeting it to multiple types of people, you may use the same message in your ad but use 4 different ad images to target 4 different groups of people.  This would mean you have 4 different Ads, inside a single Ad Set, inside a Campaign.
If you're using one specific message to target one specific demographic, you might only have one Ad in your Ad Set.
Understanding Audience Interests
Click "+ Create" in Ads Manager, and then navigate through the prompts. Most of them are straightforward, such as choosing a Daily or Lifetime Budget, a Start and End Date, or Automatic or Manual Placements.
For choosing your target audience, however, things can be a bit trickier. Start by choosing the age range and location, such as those relevant to college students suited for your product.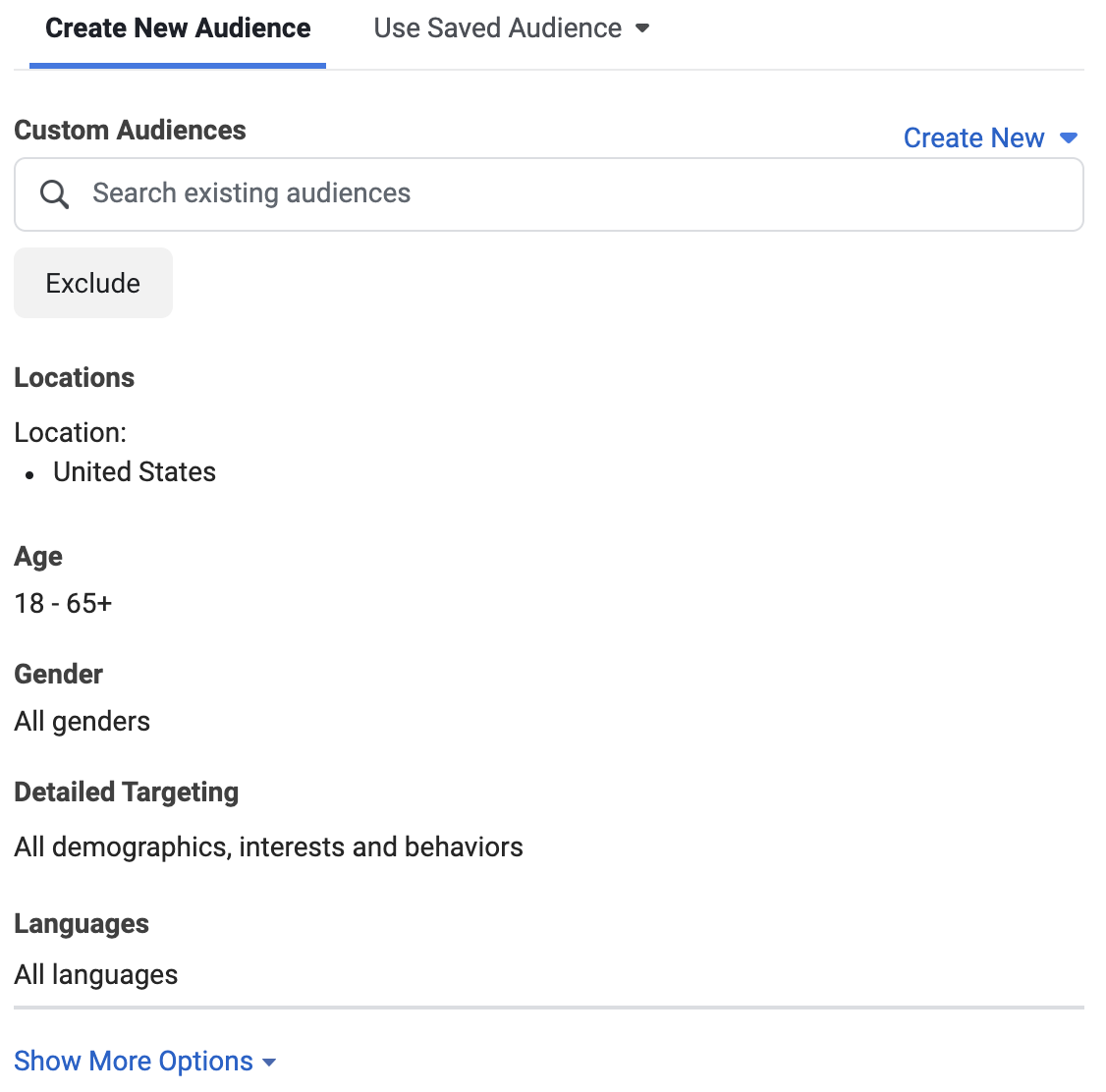 For Interests, you'll want to select those that align with who you're targeting. For example, say you're targeting college students. These Interests may sound broad like sports, exercise, and shopping, or even more specific like Pittsburgh Steelers, yoga, and Zara. 
Either way, these will help to find those people that align with your product or offer. The people that your ad targets will have to have at least one of these interests. They may have more than one, but they only need at least one.
Below the first Interests box you will see a second box with the phrase "and must also match" above it. This is another place where you can select interests. However, anything in this box means they must have at least one of these interests in addition to at least one interest from the first box.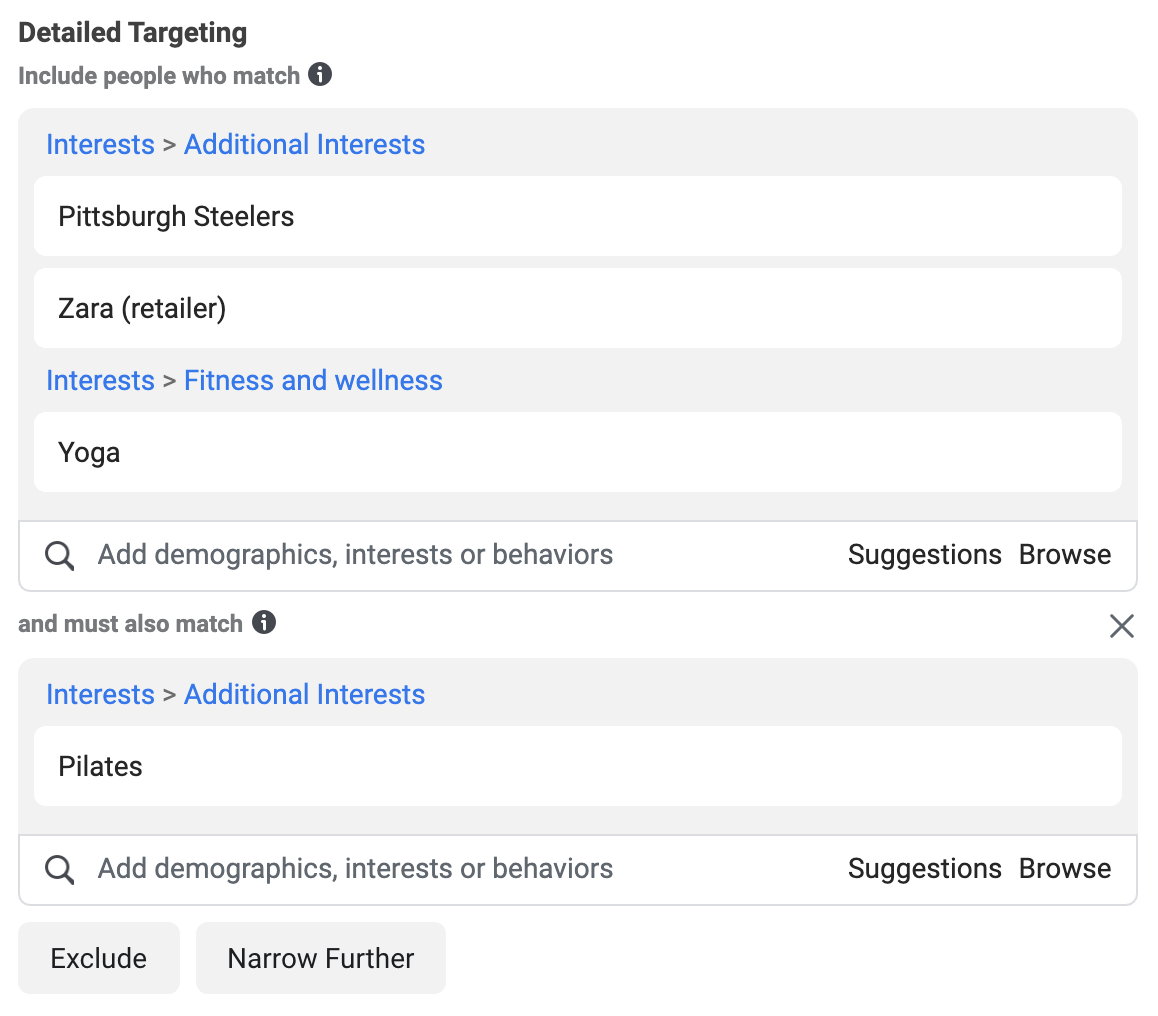 Think of it this way.
If the interests are in the same box, the person must have an interest in at least one of those things, i.e. yoga or Zara. 
For interests in the second box, the person must have an interest in at least one of the things in first box, i.e. yoga, as well as at least one interest in that second box, i.e. Pilates. 
The more layers, the more specific you're getting with your targeting. You can also exclude certain interests, such as a competitor or something totally unrelated to your product.
Same box:

Must be interested in at least one (1 box = OR statement)

Different box:

They must be interested in this AND this (between boxes = AND statement)
Build credibility first
Building credibility is a great way to grow your Facebooks Ads account. Because Facebook bills after the ad runs, starting slow and steady is important to show Facebook that you're good for your money and are an account they can trust. It can help with ad approval too.
When getting started with a new Ads account, I recommend starting small with what is considered a "Likes" campaign. This is where you run a small Awareness campaign (with a budget of $50 or so), whether for page likes, post views, etc.
Once this ad finishes, run a second small ad with a slightly higher budget. Slow and steady is key so as to not set off any red flags and to avoid Facebook interference.
Utilize retargeting features
After you've completed your "Likes" campaign and you've established a solid standing with Ads Manager, you may want to put your existing audience to work with a Retargeting Ad.
Check out the insights from the ads you ran during your Likes campaign. How did they perform? If it's clear that they performed well, don't waste that work by creating a brand new audience for ad #2. Instead, run a second campaign that uses the exact same audience. 
This way, you're sending an ad to warm leads who already recognize your brand rather than starting over with a new or "cold" audience. 
If, for example, your first Likes campaign was shown to 1,000 people and 250 of them liked the post or liked your Facebook page, send this new Ad to them. By Retargeting in this way, you're saying "Hey, remember me? You saw my Ad. Are you still thinking about xyz?" 
You can also send Retargeting Ads to people who liked a certain post that you made, already follow your Facebook page, or have spent time looking at a specific product on your website (the latter can be very effective). There are so many options, so start experimenting and see what sticks.
Create lookalike audiences
Another cool feature involves creating Lookalike audiences. The only difference with this is that instead of retargeting the same group of people, you're targeting a new group that looks like the first group. 
These similarities can be interests, Facebook activity, page likes, etc.
Say you have a top competitor. You could create a Lookalike audience using the people who already like their Facebook page. By doing this, Facebook will essentially search out an audience that looks like the competitor's by matching interests, activity, etc. You can create your Lookalike audience right inside Ads Manager. 
Take precautions
Strict rules are enforced when posting ads, and ads that violate guidelines are subject to rejection.
As a general rule of thumb, know the following: 
Tobacco, alcohol, drug, and CBD ads are not accepted

Do not use imagery with too much skin 

Do not include income or health claims in or on your advertisement

When choosing your target market, do not choose by employment as this category has many restrictions within itself 

Don't place too much text

on

the ad 
Ad rejection is frustrating, but it's not the end of the world. You can tweak to align with the rules, and then resubmit for review. However, do not be irresponsible when submitting ads. Anything too extreme could get your account shut down. Cancelled accounts are very difficult to reinstate, so I recommended double checking guidelines before posting. After all, posting successful ads require approval, and successful ads are how you grow your Facebook ads account… and your business! 
You need a Facebook marketing strategy. I can help you with that. 
If you'd like to work with me to run and optimize Facebook ads (as well as improve your email marketing and web design), schedule a free strategy call.