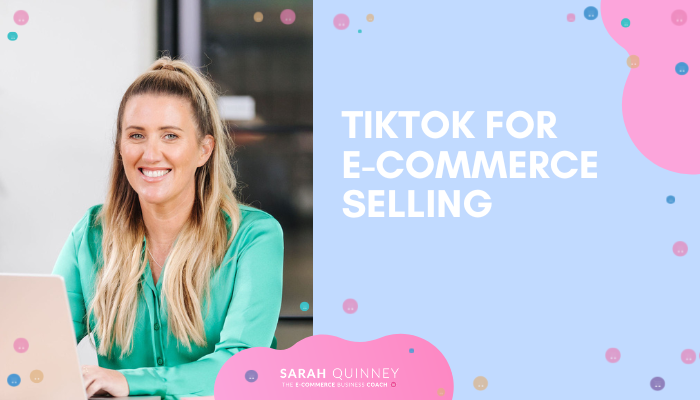 TikTok for E-Commerce Selling
TikTok is the fastest growing social media app with over 650 million downloads in 2021. The app has over 1 billion users and is becoming a gold mine for e-commerce brands to advertise and drive sales.
What is TikTok
In 2018, a short-form video app named Musical.ly was bought by the Chinese company ByteDance and became TikTok. This app was made for users to easily create and share 15-second videos. There are different sounds and songs that users can add to their videos. You can learn more about how TikTok works and how to use it to boost traffic here.
TikTok rose to popularity during the COVID-19 pandemic when users were stuck in their house. ByteDance, the company who owns TikTok, ran a very strategic advertising campaign with influencers to encourage more users to join the app. This proved to be very successful for them as they saw a huge influx of users. Now, the platform has grown to be an effective form of advertising: over 17% of the world's online population (over the age of 18) can be reached through TikTok ads.
Pros and Cons of TikTok for e-commerce
Pros
There are lots of positive reasons to use TikTok for selling. First, you will increase your store's audience and brand recognition. Additionally, their specific targeting will help you to reach the right viewers. The "For You Page" is the default screen when users open the app, and it's where users spend the majority of their time within the platform. Seeing your video there is more likely than would be the case on other platforms. TikTok also makes it very easy for users to engage by giving them more options. For example, the app includes a feature letting the
Cons
There are a few downsides to using TikTok for e-commerce. Creators can only post videos, so you can't share other forms of content in one location for your customers. Additionally, videos are not always quick and easy to create so more time must be dedicated to making them. Finally, advertising can be very expensive as influencers create their own rates based on their engagement statistics.
Why TikTok over Instagram and YouTube?
TikTok features an extensive algorithm that is very personal to the user and a big benefit to those looking to advertise on the app. Due to this algorithm, videos are mostly shown to users who actually have interest in the topics, and this can translate into high intent for purchase.
TikTok keeps their algorithm calculation methods largely a secret, but some things are publicized. TikTok uses a mix of strong and weak indicators to cultivate a user's "For You Page." An example of a weak indicator would be that you and the creator of the video live in the same town. A strong indicator would be that you have watched a similar video and commented on it.
TikTok uses likes, comments, shares, and many more indicators, and many people have made comments about how accurate their "For You Page" is to their interests. All you have to do is interact with a couple of sports videos and then you will begin to find your "For You Page" filled with videos about sports. This is helpful in the case of marketing because customers within the niche you pick will be more likely to see your videos than random users.
How to sell on TikTok with influencers
The easiest way to reach a large audience is to work with influencers on TikTok, but it's very important to work with people that are right for your brand. To get started, search keywords in your niche and look for TikTok creators who are already popular with those users. It is important that the product they will be showing is within their niche, so it is authentic to both your brand and the influencer's.
You will want to find an influencer who has a similar brand voice and very engaged followers. You can also use paid services that will match you with creator's who would work well for your brand. They will do the background work for you to check engagement so you don't have to.
If you're finding influencers for yourself, good ways to search for influencers are using hashtags, topics/categories, location, follower count, and engagement rate. Engagement rate is very important to how many people will see your video. TikTok considers likes, comments, shares, and saves to calculate engagement on a video.
You can learn more about working with influencers or brand ambassadors for your e-commerce brand here.
Low budget? Try these options!
If you don't have a big budget for advertising, selling on TikTok is still possible for your brand. If you can't afford to work with influencers, you can still create your own content.
A great strategy for e-commerce brands is to try to work in user-generated content from consumers. Shoppers love reviews and they help build trust in your brand. Encourage your customers to post videos of themselves with their products and share why they love them. One popular way to do this on TikTok is by creating a challenge that creators can participate in. Another strategy is to create a custom brand filter that they can use on their videos.
The most important part of selling on TikTok is finding your niche within the platform. When deciding what to create it is very important that your content fills a need for users. You will want to dive deep into the niche you're trying to reach to find out what is important to them and how to participate in conversations with them organically.
You don't need a huge budget to gain lots of traction on your brand's TikTok videos, but hard work and consistency will pay off well for creating brand recognition.
—

Ready to scale your online store? 
The E-Commerce Women In Business Mastermind –  your exclusive e-commerce coaching and e-commerce digital marketing mentorship for women looking to Grow and Scale your online store.  Click here to learn more
Yours in success,
Sarah x